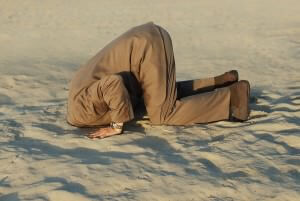 As the ancient proverb I just invented says, "Person with head buried in sand may well get kicked in butt." So I've come up with a few scenarios that could result if online surveys with non-customer populations became impossible tomorrow. Imagine: you can still reach your customers for research, but what about the rest of the world? What if you could no longer reach qualified, non-customer groups in a quantitative way? If the lists and panels were no longer available or the response rates dropped to .0005 percent, what would the impact be on your market research needs and investments?
OPTION 1: GO QUAL.
Your quantitative research may simply be restricted to current customers. For non-customer populations, you'll use observational or listening techniques like social media monitoring and ethnography, or qualitative techniques like focus groups and interviews. Recruiting for those qualitative methods will be hard, but finding 50 or 60 non-customers is easier than finding hundreds or more.
OPTION 2: GO TO THEM.
In-person surveys resurge. Intercept customers, at stores if you sell that way, through online shopping sites if not. If you're in the B2B space, find non-customers at trade shows, conferences and other brand-neutral territories. Yes, it takes serious manpower, and there are limitations, but it works.
OPTION 3: TAP THE MIDDLE MAN.
Collecting feedback from your salespeople, outbound call center staff, and sales channels will become more critical than ever before. They may be your only conduit for reaching non-customer populations. Training these folks in how to ask questions (yes, really) and how to record feedback will be key.
OPTION 4: BRUTE FORCE.
You can try to force online surveys by using ad-based recruiting (survey ads posted to social media groups, banner ads on trade association sites, or ads in relevant online or print magazines). This is an expensive option, because response rates will be dismal….but better than nothing, you hope.
OPTION 5: BACK TO THE (PAPER) FUTURE.
There are plenty of lists available for postal mail—and if online surveys flounder, why not test it? We just may see a resurgence in paper-based surveys. The twist is that we may not have to mail actual surveys, just survey invitations.
OPTION 6: ALTERNATIVE WAYS OF GATHERING QUANTITATIVE DATA.
This will vary greatly by application. Here are two examples:
For product concept testing, it may mean putting actual mock products on your web site with different configurations and price levels to test market response.
For brand perception and awareness research, it could be posting one-question polls on social networking sites (like Facebook). Of course, such sites don't gather perfect information about demographics. And how do we interpret poll results that lack precise geographic information? Still, it's an option.
HAVE I MISSED ANY OTHERS?
I'd love your feedback. What do you think? If online surveys with non-customers became logistically impossible, what would your best option be? The future will belong to those with an arsenal of creative ideas ready to roll out.