Surfing Lessons for Market Research Survey Designers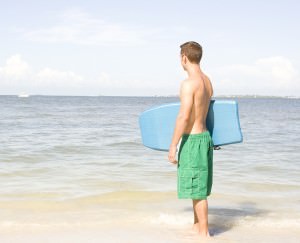 If you've ever seen the movie Forgetting Sarah Marshall, then you are familiar with the line, "do less."  Chuck (Paul Rudd) uses this line over and over when teaching Peter (Jason Segal) to surf. Chuck goes a little far and Peter ends up boogie boarding, but his point is well taken. Doing too much will result in failure, but doing too little will leave you boogie boarding. When designing a market research survey, it is important to capture a lot of useful information, but how much questioning will be too much for the participants to take? Our mantra is, as Chuck advises, to do less.
Doing Less Will Minimize Your Survey Drop Out Rate
In any market research survey, some participants will drop out, which is just the nature of the beast. The goal is to minimize this drop out rate so that we can meet our overall sample size goals, completely. A well-written questionnaire can limit this drop out rate to lower than 3%, the target number for most market research surveys.  People will be more likely to complete your survey if it is simple; and that means asking clear questions, offering realistic answer options, and using easy scales.
So how simple does it need to be? How do we balance that desire to achieve optimization through simplicity, while meeting the project's needs for data collection?  While there are many possible factors, here is an often overlooked critical one:
Know how much effort you can ask from this particular group, and design accordingly. In the case of a non-blind survey, the first step is simple; understand the target audience for your survey. Are they loyal customers or a random sampling of consumers?  Loyal customers will be far more willing to take time on the survey and answer more personal questions than random people. However, even loyal customers can be easily scared off by complex surveys.
When crafting your survey, you will surely go through a few iterations. So while revising, be sure to consider the content from a participant's point of view.  If you were taking this survey, would you feel it was asking for too much information or too much effort? Guiding questions to help you gain a participant's perspective can be found in Research Rockstar's class titled "Ask It Right." [Class discontinued.]  And until then, you can always take a lesson from our surfer friend Chuck, and err on the side of doing less.