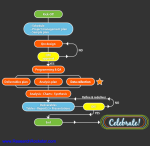 Draw Them A Map: Preparing Market Research Newbies For Quant
If you need to set expectations with colleagues about the quantitative market research process, here you go (see bottom of post): the key steps layed out in a simple flowchart.
I have used this diagram to walk market research newbies through the process many times, and it always gets rave reviews. While the chart is pretty self-explanatory, a few items are worth pointing out:
Two major steps (questionnaire design and deliverables) are iterative.  I always point out that for both of these steps, you need to plan for at least 2 and usually 3 rounds leading to final, approved versions. Inevitably, this leads to a discussion about roles and responsibilities—which is great.
I always stress that during the data collection process, we need to take time to document an agreed upon analysis plan and deliverables plan. Since I am often using this with folks new to market research, this leads to an important discussion about options, which is great to have well before a project starts.  Occasionally I get push back on the concept of a "deliverables plan." But given all the ways of delivering data these days, and the unique needs of different audiences, having a plan documented is great way to avoid last-minute panic.
And yes, I really do talk about celebrating. Maybe that sounds trite, but with folks new to research, adding a little fun to the process scores some points. And let's be honest; at the end of a big quant project, a little celebration is in order!
Please feel free to use this chart. If you want me to email you a separate image, just send me a message (KKorostoff@ResearchRockstar.com).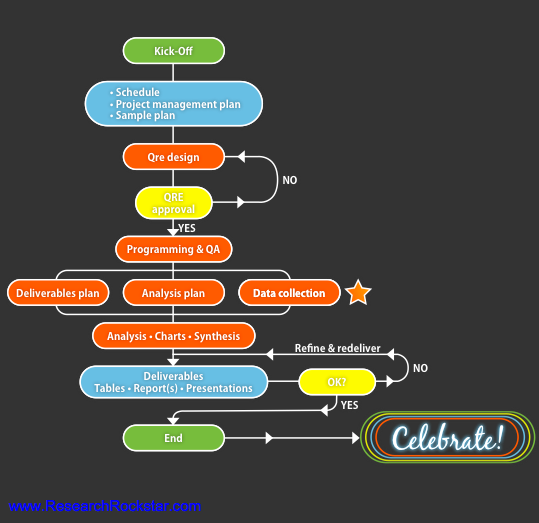 [If you like the blog posts here, you will love the newsletter! Not yet subscribed to the Research Rockstar newsletter? Sign-up here: SIGNUP]