Market Research Classes & Descriptions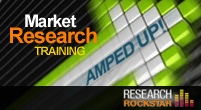 Research Rockstar's classes are available as follows:
Online, self-paced.  For the ultimate in convenience, take a class when you want, from wherever you want. All classes include 30 minutes of instructor access (by phone or email), and most include interactive quizzes.  All classes are fully-narrated and focus on practical, real-world market research applications. These individual classes are $129, and include 30-day access; VIP members and above have unlimited access to all classes.
On-site, for your team or group. On-site training is the best choice for teams, so that the learning experience can serve both as a skill development and team-building opportunity. Web conferencing or videoconferencing  can be added to include your remote colleagues.
For more details, click here
Or contact Sales@ResearchRockstar.com for the most current options or send a request to us using this form.
Online, instructor-led. Research Rockstar offers several real-time programs each month. These classes are taught in real-time in our virtual classroom, and provide lots of instructor access and interactivity. By being online, we can support your students wherever they are; all they need is internet access to participate.  Please contact Sales@ResearchRockstar.com for the most current offerings or visit our training store.