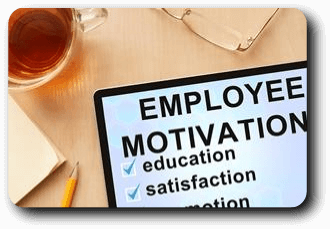 How Can Market Research Managers Keep their Employees Motivated?
by Debra Mascott, Director of eLearning Curriculum, Research Rockstar, LLC
Finding great market research employees is hard enough. But once you have them, how do you keep them motivated?

Significant research exists on employee motivation—and we believe it applies very well to market researchers. Even those feeling pressured by stressful deadlines, budgets and client demands. Our Director of eLearning, Debra Mascott, has summarized some of the key employee motivation principles below.

Long careers at companies are no longer the norm. Employees bounce around from one job to another with a median employment length of 4.6 years.[1] Not surprisingly, this varies somewhat by age; older workers stay with companies longer than younger workers. Indeed, Forbes cited 91% of Millennials (born between 1977-1997) expect to stay in a job for less than three years, according to the Future Workplace "Multiple Generations @ Work" survey of 1,189 employees and 150 managers. That means they would have 15 – 20 jobs over the course of their working lives![2] Contrast this with my childhood neighbor's father who worked for AT&T for his entire 38-year career.

Extrinsic vs. intrinsic rewardsThere are many schools of thought when it comes to rewarding employees:

Extrinsic rewards:

· More money

· Certificates (employee of the month)

· Benefits (health, 401K matching)

· Badges, awards

· Honors, Credentials, Ceremony

Intrinsic rewards:

· Professional development

· Career development

· Additional training

· Cross-training

· Tuition reimbursement
It's not always about the money
It's easy to attribute money as a motivating factor, but it certainly isn't the only factor. The operative phrase, cites Cornerstone OnDemand, a talent management company, is "engagement."[3] Compensation isn't always the root of employee satisfaction and engagement. Engagement is the emotional connection employees have to their organization. It is a sense of belief and commitment. Engaged employees are bolstered by positive working relationships, learning opportunities and feeling valued.
Also key to encouraging an engaged workforce is two-way communication with management, building relationships, encouraging professional and personal development and finding individual motivators.
There are many schools of thought when it comes to rewarding employees. On the one hand, extrinsic rewards include money, certificates, honors, credentials and awards. Years ago I was on an Employee Rewards Committee when the committee came up with an awards certificate which could be cashed in for free lunch in the cafeteria or movie passes. These extrinsic rewards can certainly bolster enthusiasm, but they don't get to the heart of employee engagement.
Improving skills, knowledge and abilities
In contrast with extrinsic rewards are intrinsic rewards. Training, professional development, coaching/mentoring and career development come into play by enhancing an employee's skills, knowledge and abilities. Whether it's offering a class to expand skills or professional seminars to supply networking opportunities, managers can both develop their in-house talent and supply intrinsic rewards.
Trading places
In Human Capital Media's monthly publication of Chief Learning Officer, reporter Elizabeth Lisican interviewed several companies whose work force includes older workers. Traditionally, older workers play the role of mentor to new hires, but that doesn't have to be the case. A new twist in the workplace is that millennials grow up with technology and are more attuned to gadgets and devices, Twitter and Yammer and other websites. Lisican found one company with a unique program called "reverse mentoring."[4] The idea is that an older executive could be mentored by a recent college grad on the ins and outs of social media like blogs and Twitter. Bottom line: sharing skills is a way to work across generations. It's not a one-way street.
Training builds careers
There's no doubt that training helps build careers. Research Rockstar, for example, has various market research courses which offer practical knowledge and skills. To a new hire, a course on Market Segmentation, How to Conduct Research Interviews or How to Write Qualitative Research Reports are not only motivational, but immediately beneficial. To more experienced researchers, courses such as Infographics for Market Researchers or Behavioral Economics for Market Researchers allow an experienced researcher to add new skills.
Market Researchers Need Love Too
The pressures of juggling deadlines, budgets and clients can make market research a difficult job. Even the most dedicated of market research professionals have moments of crushing frustration. As a manager, motivating these employees through creative mentoring, communication and, yes, training, can help.

[1] http://www.bls.gov/news.release/tenure.nr0.htm
[2] http://www.forbes.com/sites/jeannemeister/2012/08/14/job-hopping-is-the-new-normal-for-millennials-three-ways-to-prevent-a-human-resource-nightmare/
[3] http://www.cornerstoneondemand.com/sites/default/files/thank-you/file-to-download/csod-wp-ge-getting-engaged.pdf
[4] Liscan, E. "Learning and the Older Worker" Chief Learning Officer, (2013, August). pp. 26-38.