How to Use Facebook Polls for Fun and Profit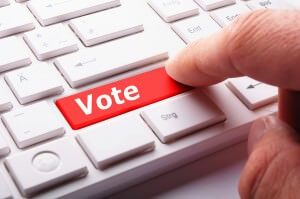 Typically when we think about market research surveys, we think of questionnaires that have 20, 30, or even more questions. Getting qualified people to complete these questionnaires has become a serious challenge.  One alternative is the single-question poll. After all, you're much more likely to get high response and low dropout rates if you can simply say, "Hi, we have a single question we'd like your opinion on", rather than requesting a novel's worth of responses.
Facebook is making polling insanely easy these days, and several polling applications are available on Facebook. Creating a single-question poll is a snap, and then you can make it available on your fan page or your personal page, or you might invite friends to take it.
Let's say your company has a fan page with hundreds or thousands of fans. You can simply post the poll on the page. No fan page? Facebook also gives you the option to "purchase sample."  Only want men and women from the U.S., or only interested in men from Mexico for your particular poll? No problem. While gender and country are currently the only 2 options offered, I wouldn't be surprised if Facebook came out with more powerful select options soon.
Facebook Polls: The Good News
Speed. A key advantage of Facebook polls, clearly, is speed. Results may be available within an hour.
Numbers. With over 600,000,000 users as of early 2011 (compare that to the US population of 310,000,000), you've got a lot of potential respondents.
Cost. Having done some experimenting with Facebook polls, I can tell you it's very affordable and perfectly appropriate for certain types of topics. Placing a poll on Facebook is free as of March 2011 (though of course that's subject to change), and their current sample pricing is very low.
Facebook Poll Limitations
Limited selects. Currently, you can choose from just gender and country (though again, I am sure this will change soon given how many options they offer for selecting audience members for their ads).
It's "only" Facebook. Obviously, not everybody is on Facebook. While it does represent a broad mix of ages and countries and has a pretty even gender mix, it's likely not the best match for specific groups such as business decision makers. My experience so far is that it's good for consumer-type topics more than business-to-business polling.  But if you're running a business-to-business company and you've got a fan page, it's worth testing.
The Challenges of Polls in General
One Question. It's a single question, so you have to craft that question carefully and understand who's responding, keeping in mind that there's a lot you don't know about those respondents.
Polls don't represent everyone. Some skeptics would say that the people who opt into these types of polls may not be representative of the broader population. Seems to me a single-question poll has a higher probability of broad response than a longer survey, so perhaps it balances out.
It may raise more questions. When you look at the results of a single-question poll it can raise more questions. You don't have the benefit of a logical branching or skip pattern to follow up on specific answers. You have little context. Imagine a scenario where we ask participants to select which of a list of 5 features is most important when buying a tablet device. Say the poll finds that one item markedly stands out. On one hand that's great, but on the other it raises the question of "why"? And how might that have varied by customer type, etc.? Cool data, but it leaves us begging for more.
Limited Uses. A single question can give you directional data, maybe even help you uncover some interesting things worth further investigation. But you aren't going to make a million-dollar decision based on such data.
A Simple Test
I did a test the other day for $15.00.  I selected 'men and women from the U.S.' and had 50 responses within two hours (that's 30 cents per response). Granted I don't know much about these people, and I asked a pretty generic question, but it was very fast and affordable.  For topics where some data is better than no data, that can be totally appropriate.
Polls Are a Viable Option for Fast, Directional Data

Given the caveats that we don't know much about the respondents and we don't know enough to make extrapolations, there's nothing wrong with asking a quick question of the Facebook population. Not every project warrants a big budget or weeks of effort. And with 600,000,000 users, there is a huge sample source just clicks away.
[Want access to more market research articles and training materials? Sign up for the Research Rockstar newsletter: SIGNUP]