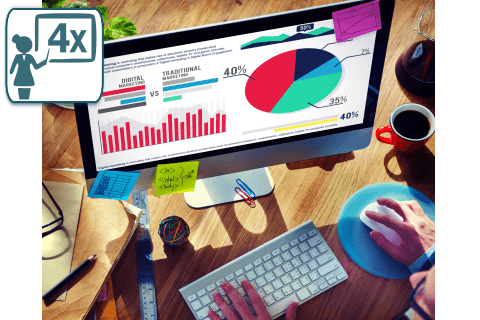 Excel Versus SPSS? It's Closer Than You Think
What if Excel could do 80% of the data analysis tasks that you use SPSS for?
If you haven't looked at Excel as a survey data analysis tool in a while, look again. Better still, come take our brand new, one-of-a-kind class:  Excel for Market Research Data Analysis.  This 4-week program starts with pivot tables, covers t-test and chi-square tests, and continues up to and including regression. All in Excel.
This real-time class is taught by live instructors in the Research Rockstar virtual classroom.  You might wonder, "How can you teach Excel remotely?" Actually, quite well.  With the new Excel class, we applied the same curriculum design principles that have been working so well since we redesigned the Intro to SPSS class last year (Intro to SPSS also being a hands-on class). This new design is based on the flipped classroom model—where students get new material ("lectures") as homework, and use in-class time to do practice exercises with real-time teacher feedback.
Because this class is so interactive,  students need to come prepared to work. But hey, don't we all know that getting hands-on is the fastest way to learn a new skill anyway? So yes, this class requires some real work, but we keep it fun and fast-paced, and we think you will enjoy meeting the other students, too.
Will Excel totally replace your use of SPSS? Probably not. But for those who might be without an SPSS license, it certainly makes sense to look at Excel as a survey data analysis tool. And even if you do have an SPSS license, knowing how to do the basics in Excel is certainly still a useful skill.