Conducting Online Surveys Using Online Research Panels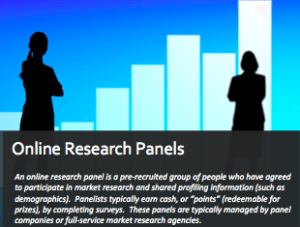 A recent post here about online panels resulted in some interesting conversations with both in-house market researchers and a panel provider. Based on these conversations, I was inspired to elaborate more on the topic of online panels for those who may not have had the experience of working with them yet. So, if you are considering using an online panel for an upcoming project, and want some tips on how to manage this important resource, please check out my new white paper on online panels.
Online Panels: 7 Threats to Market Research Success
This 5-page white paper elaborates on what can go wrong when using an online panel, and how to mitigate these risks.
Truly,  panels are a great resource for anyone conducting surveys these days. And with a little practical advice, you will be able to use online panels successfully.
Yes, I want the Free White Paper about Online Panels! CLICK HERE