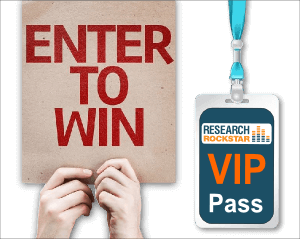 Research Rockstar Announces 12-month Training Passes, Celebrates with Market Research Training Giveaway
Market Researchers interested in professional training can now purchase VIP passes to get twelve months of unlimited training in either qualitative or qu
antitative research. Research Rockstar's new VIP Passes provide skill seekers, a pay-once-get-many training option.
"Many of our clients tell us it is easier to request training budget once a year, than to go back for individual classes," explains Research Rockstar President Kathryn Korostoff. "The new annual passes are our solution for such needs."
Three new VIP passes are available effective immediately:
All applicable classes are instructor-led and take place in a virtual classroom. No travel necessary.
Celebrating with a Training Giveaway
To celebrate the new passes, Research Rockstar is launching a "VIP Pass Giveaway."
Two winners will be randomly selected. Winners will get their choice of either of the new VIP Passes:
Qualitative Research VIP Pass.
Quantitative Research VIP Pass.
No purchase necessary. For Giveaway rules, please visit http://bit.ly/VIP-Rules. Deadline for entry is March 6, 2015.
VIP Pass Purchase Information
The new passes are sold on a per-person basis. Passes are not transferable and cannot be shared. Each Pass is valid for 12 calendar months after date of purchase. Partial and full refunds will not be issued based on Pass usage. Pass does not apply to private or custom training.
To purchase a VIP or Backstage Pass, click one of the following links:
Qualitative Research VIP Pass: http://bit.ly/QualVIP
Quantitative Research VIP Pass: http://bit.ly/QuantVIP
Backstage Pass: http://bit.ly/VIPBackstagePass