New 4-Week Power Programs Coming This Spring!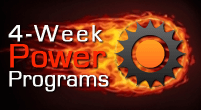 Great news! Thanks to the fabulous client feedback we've been receiving, Research Rockstar has gone ahead and scheduled a whole new round of 4-Week Power Programs.
Research Rockstar's live, online, interactive, instructor-led classes are fun and fast-paced. These classes take place in our own virtual classroom once a week for four weeks. Complete a Power Program and receive a certificate that declares you are a Research Rockstar.  Better still… if you miss a class, have to leave early, or would just like a little refresher to review a few days later, you're in luck! All live classes are recorded and available for review for 60 days.
So, what topics will our spring 4-Week Power Programs be covering? We're glad you asked!
This spring, we will be holding power programs that cover Market Research Project Management, Online Research Methods for 2012, and an Introduction to Quantitative Data Analysis.
Interested? Click here to learn more and register yourself or your staff for one of these great programs. Seats are limited, so sign up today!
[Want access to more market research training materials? Sign up for the Research Rockstar newsletter: SIGNUP]