A Razzie Award for Online Surveys?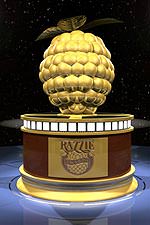 Hollywood has the Razzies, an awards program where "winners" get a golden raspberry award for categories such as "worst film", "worst actor", "worst actress" and so on. 
Maybe online survey research needs the "Sazzies", the Survey-Razzies? We can create awards for "Most onerous" or "most annoying" survey designs. Or how about, "Most spelling errors" or "Poorest chance of meeting intended goals"?
So what do you think? And what should the award be? Perhaps a golden lemon?