748 Votes Later: The Top 10 Market Research Industry Predictions for 2011 & Beyond
A total of 35 market research industry predictions were posted during the last two weeks of 2010.  For each one, people could vote for or against the item, resulting in a net score.  Our highest positive score is 31: Vaughn Mordecai's prediction that, "Combined & Alternative Modes of Collection Actually See Traction." In contrast, the most negative score was my own, "Survey Research will be Dead by 2015"; an obvisously extreme statement, which I posted in reaction to the Phillip Graves' book (I wanted to see what kind of response the item would stir up).
I'll be posting detailed results over the next week.  Until then, the site is still open if you would like to see all of the results. I also encourage you to read the many insightful comments (there are over 100 comments from various voters).
Note that the top 10 includes ties.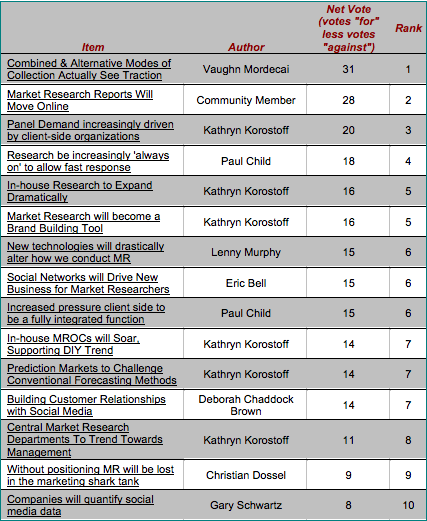 Please leave any comments or questions here, or contact me at 508.691.6004 ext 705, or KKorostoff@ResearchRockstar.com.