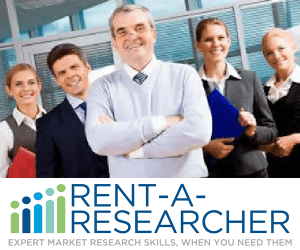 110 Ways to Handle Project Overload
End of year can be a surprisingly busy time for market researchers. Some clients have "left over" budget they need to spend. Others are trying to get a head start on 2015. And then you get a few of those "rush" projects that seem to pop up at the worst possible times.
What if you could temporarily expand your research team with the precise skills you need to cover these temporary spikes? You can.
And we have 110 ways to do it. Or, to be precise, 110 people.
Rent-a-Researcher Program Now 110 Consultants Strong
We have had over 230 people apply to become Rent-a-Researcher consultants. Of these, 46% passed our 15-step screening process.
That means we have 110 people available to help you by the hour, day or project. You "rent" our researchers to do the precise work you need. And since this is a staffing service, you never have to worry about 1099s, insurance or employee status questions.
Report Production, SPSS, IDIs, Ethnography & More
Our Rent-a-Researcher consultants represent diverse qualitative and quantitative skills. You just tell us what skills you need, and we give your our three best matches. You get to phone interview and select your candidates.
Market research project overload can be stressful. But by temporarily expanding your team with the precise skills you need, you can increase capacity without making long-term commitments.
Check out our Rent-a-Researcher Infographic to learn more about our consultants.
Want temporary research help?
Contact Nancy by
Phone: (508) 691-6004 Ext 703
Email: RAR@researchrockstar.com
Or fill out our simple form here.