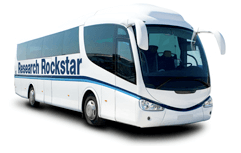 As you can see, the web-site updates are complete! What do you think of the new look and new features? Please give me your feedback here, by phone or by email.
For those of you who buy Research Rockstar classes, the biggest news is that I have simplified the process of buying and watching them. Now, access to classes is based on memberships. Four membership levels are offered, starting with Free. Yes, Free. The higher the membership level, the more stuff you get.
As a Rockstar member, you get access to a members-only page where you will see various courses, eBooks, and templates listed. Just click to view a class (no more downloading huge files!). Or, click to download a PDF (for eBooks and templates). And view classes as many times as you wish.  New classes are added monthly, sometimes even weekly, so check your membership page periodically.
I want to thank the team at Men with Pens for making the updated site look so great.  You guys rock!