Are You a One-Man Market Research Juggling Act?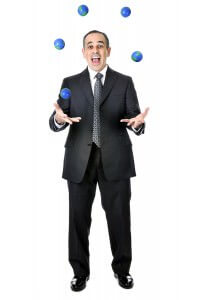 Have you ever watched a really good juggler practice? When everything is going right, it's a joy to watch, but once in a while, they get just a little behind, things start to get wild, and there's that moment just before the balls hit the floor that you'd swear it's the balls juggling the juggler, not the other way around. I bet a lot of market research managers can relate.
Recently I've had the experience of working with several clients who are in the not-uncommon position of being a one-person market research department. And across all of them, I have noticed a recurring challenge: they get stuck in reaction mode, not unlike our friend the juggler. Let's look at this challenge and some tactics to address it.
THE CHALLENGE: Reaction mode
In reaction mode, the research manager doesn't have enough time, budget, or even authority (in some cases) to plan strategically. Some of these professionals don't have annual research plans or budgets. They often have too few resources for too many demands. Not only is it personally frustrating to be constantly distracted by delegated tasks on short or no notice, it's also horribly inefficient. The market research manager becomes an order-taker, when he or she would best thrive and contribute in an active, creative mode. Call that job satisfaction? I don't think so.
THE SOLUTIONS: Give Management a Nudge
Make a plan. One client worked up a brief, 12-month market research plan. That sounds pretty tame, but his particular company had never had one before. The MR Manager identified and recommended some very basic things (like measuring brand awareness and initiating a transaction-triggered feedback program) that the company had never done. It's too soon to predict the results, but the plan was well received by management, and it started a discussion. With luck, an annual research plan and a decent budget will be forthcoming, but even if not, at least management is starting to become a bit more educated about research's potential.
Invest in training. With the disclosure that Research Rockstar is a market research training company (so this may be self-serving), providing some training for the non-research side of the company can pay big dividends. Why not present a "Basics of Market Research for Customer Insight" class, where core concepts are defined and the benefits of good MR are presented? Show your colleagues and managers what other companies do with market research, how they apply it, and how much it actually costs. I did a class like this recently at a client site, and the audience had a few very interesting reactions:

They were surprised at how many non-survey methodologies there are.
They immediately embraced the idea of MROCs (market research online communities).
They heard me describe a type of project that happened to resonate very deeply with them (it related to a specific marketing challenge they are struggling with).
They were shocked at some of the cost ranges I gave them (what to expect to pay for different types of projects)—and it was a good shocked.
CONCLUSIONS:
When management doesn't understand market research's true potential, they tend to tag the market research manager for one-off projects and urgent needs. The one-man market research department will be picking up the balls that other jugglers have dropped, instead of keeping his own in the air. Stepping forward to say "Look what I can do for you" and providing some exposure to the possibilities can be very effective ways to rise above reaction mode. Being a one-man juggling act is challenging, no doubt about it—but it can be a joy when all those balls are hovering in the air over your head.
Check out Research Rockstar's Market Research Training Services: We can train your whole team or you can purchase individual classes.