Your Chance to Win a Year of Free Market Research Training: Deadline for Entry 9/26/14
Ever wish you had a bigger market research training budget? Then enter our sweepstakes for a chance to win a year of free training.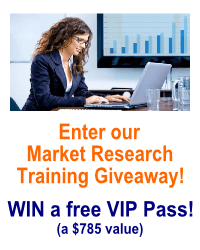 Numerous studies show that training helps professionals to improve job satisfaction and career mobility. In some cases, it also increases earning potential. And besides, investing in new skills or a knowledge refresh is a great way to help boost your confidence.
Clearly, here at Research Rockstar we are biased. We think market research training is a great investment. But we know that some organizations are tight with training budget. So here's your chance for free training:
Click here to enter: SWEEPSTAKES
All classes are taught by a live instructor in a multimedia, online classroom—so there is no travel involved. Have any doubt that our classes are great? Click here to see what our clients say.
Enter by September 26th 2014! No purchase necessary. Click here for entry rules.