Special Offer For TMRE Week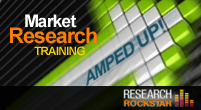 Not going to TMRE this week? Well, you can still take some time for market research learning even if you can't go to Florida.  Sign up for one of our online classes this week (ends 11/11/11), for free. That's right: one class, zero dollars.  Topics you can pick from include:
How to Hire a Market Research Agency: Practical Steps for a Successful Process

Learning from History: Using Win/Loss Research to Improve Sales Success

Market Segmentation: Practical Steps to Research Success

Product Concept Testing

: Practical Steps to Research Success

Reorganizing the Market Research Function

Social Media Meets Market Research

: Social Media and Social Networking as Market Research Resources
Just use coupon code RR100WOW when you place your order and you will not need to enter any credit card info. CLICK HERE!
Happy TMRE week!