Onboarding: the key to making teamwork actually work
Onboarding White Paper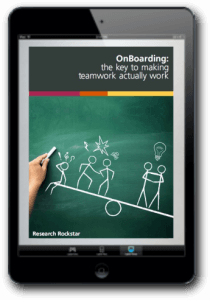 Done right, bringing new people onto your market research team can be a positive, productive experience for everyone involved. You can get your new hires up to speed quickly, and create a spirit of group cohesiveness that sets a great tone for months to come.
Learn why onboarding is so important—and not so hard to do correctly.
Research Rockstar's "Onboarding: the Key to Making Teamwork Actually Work" includes five specific steps you can take to optimize the effectiveness of your entire team. This comprehensive, concise white paper is filled with important insights. It's fun to read—and implementing what you learn could very well help your team reach new levels of productivity.
Please fill out the form below to download your copy:
We solemnly pledge NEVER to spam you or sell your email address to anyone.
Thank you for requesting Research Rockstar's "Onboarding: the key to making teamwork actually work."
By completing this form, you are opting in to receive email from Research Rockstar LLC. You may unsubscribe at any time.