Going Backstage with the Rockstars of Research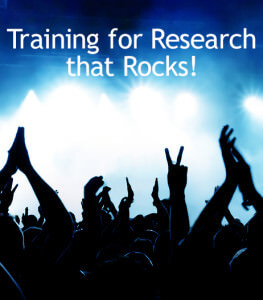 Think about your favorite band or artist.
Now, think about how you interact with them.
Most of us would say "I have a Spotify playlist or listen to them on the radio, and that's about it!"
But if you've ever had the chance to go backstage at a rock concert, you know what a special and memorable experience that can be!  Listening to your favorite artist on the radio is one thing, but being able to talk to them and ask them questions is something you'll likely never forget.
Now, think about your job in research and insights. When you want to learn more and expand your skillset, sometimes you will do the equivalent of listening to the radio – hitting up YouTube for a basic 5-minute refresher on a stats skill you vaguely remember.
But that's not enough to really amp up your skills.
To make the biggest impact on your learning you need to carve out some dedicated time with a skilled teacher to really ingest the content and make it "stick".
If you're familiar with our classes, you know that they are unique in the industry! We have research and insights experts, true rockstars, teaching live, interactive and fun classes on topics pertinent to both the work you do now, and the work you may want to do in the future.
However, many of us take one class and realize we want more. Then after taking just a few you've realized you're maxing out of your training budget for the year. Eek!
Wouldn't it be great to go backstage with the rockstars of research and, at the same cost as just a couple of classes, be able to have a whole year of access to our entire catalog of Research Rockstar classes? With our Backstage Pass you can!
The Backstage Pass is a really powerful (and budget-savvy) training option for researchers seeking to be rockstars!
The Backstage Pass is a 12-month all-access membership that provides up to 40 hours per year of access to our catalog of 30+ live, instructor-led courses and growing library of media content. Backstage Pass holders have 24/7 access to our Learning Portal—where they can select courses, access live sessions, view course recordings and communicate with instructors.
There are no queues or velvet ropes here.
All this sounds great, right? If you want to try it out for free, we have a four-week free trial of the Backstage Pass that you can take advantage of now. Click here and select "Free 4-week trial" from the drop-down menu.
Get ready to ROCK with a Backstage Pass!
(And sometime I'll tell you about being a bouncer at a Jesus Jones concert back in the 90s, and getting a movie set tour from Martin Sheen!)