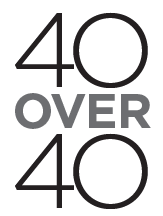 This month the market research industry is recognizing an elite group of professionals who have contributed to the industry's advancement, innovation and prestige. The 40 over 40 Awards were created by the New MR Leaders Council to recognize the hard work of a diverse group of researchers who have dedicated more than 20 years of their careers to the research industry and who exemplify the spirit of progressive market research in spite of their age.
According to Council chairwoman Marjaan O'Erra, "The complexity of market research means that experience counts. Certain skills are best learned through the depth of experience compiled over decades. It's the professionals with decades of real-world, hands-on work who drive this industry. We're talking about researchers who have programmed SPSS in syntax, have moderated focus groups back in the day of beer-stocked refrigerators and who understand that the 80 character card format was developed for a reason."
According to the New MR Leaders Council official statement, "It's clear that there has been an important gap in the research industry's awards process. Until now, there has been no recognition between the AMA's 40 Under 40 award and the Lifetime Achievement Awards of organizations such as AAPOR and the MRA. Researchers over 40 are in the prime of their career and contribute greatly to driving this industry forward, while having the luxury of knowing that if they completely screw it up they will be able to retire in a decade or two. We have a brief window when these researchers are no longer so wet behind the ears that they repeat the past mistakes of the industry (must we relearn questionnaire design each generation?) and when they are not yet so set in their ways that they hold the industry back."
To inaugurate this award, we're encouraging researchers to nominate one another through Twitter, which is little used by those under 40 and over 60. To nominate a researcher, please tweet using the #40over40 hashtag: for instance, "Congratulations, Dan Womack, on your #40over40 nomination for #MRX distinction!"
Nominations are open today only (4/1/12).
Brought to you by @JHenning, @ResearchRocks, and @VirtualMR